As October comes to a close and November rolls around, we're finally beginning to feel a chill in the air and smell the woodsy aromas of fall. Now it's time to get the ball rolling on crossing off items on your fall checklist! If you haven't started, or you're just not sure where to begin, we've created a great checklist of fun fall activities that'll get you through the season. 
Pumpkin patches and corn mazes aren't the only thing that you need to cross off your list for this fall. An important aspect of fall that will need your attention is doing some home maintenance preparations. We care about whole home comfort which is why we're sharing these great tips to get your home ready for the cooler weather. 
Things To Do
Remember all the things you used to do as a child during the fall? Jumping in the leaves is a classic family tradition and you never forget your experiences at the corn maze or the pumpkin patches. Give those same great memories to your children, and keep making more for yourself as well! If you've never been camping, now is the perfect time to go! Have you visited a haunted house before? Try it out and see if you're a scaredy-cat. Have a fall dessert baking competition with the family and get the kids involved! This fall is sure to be one to remember.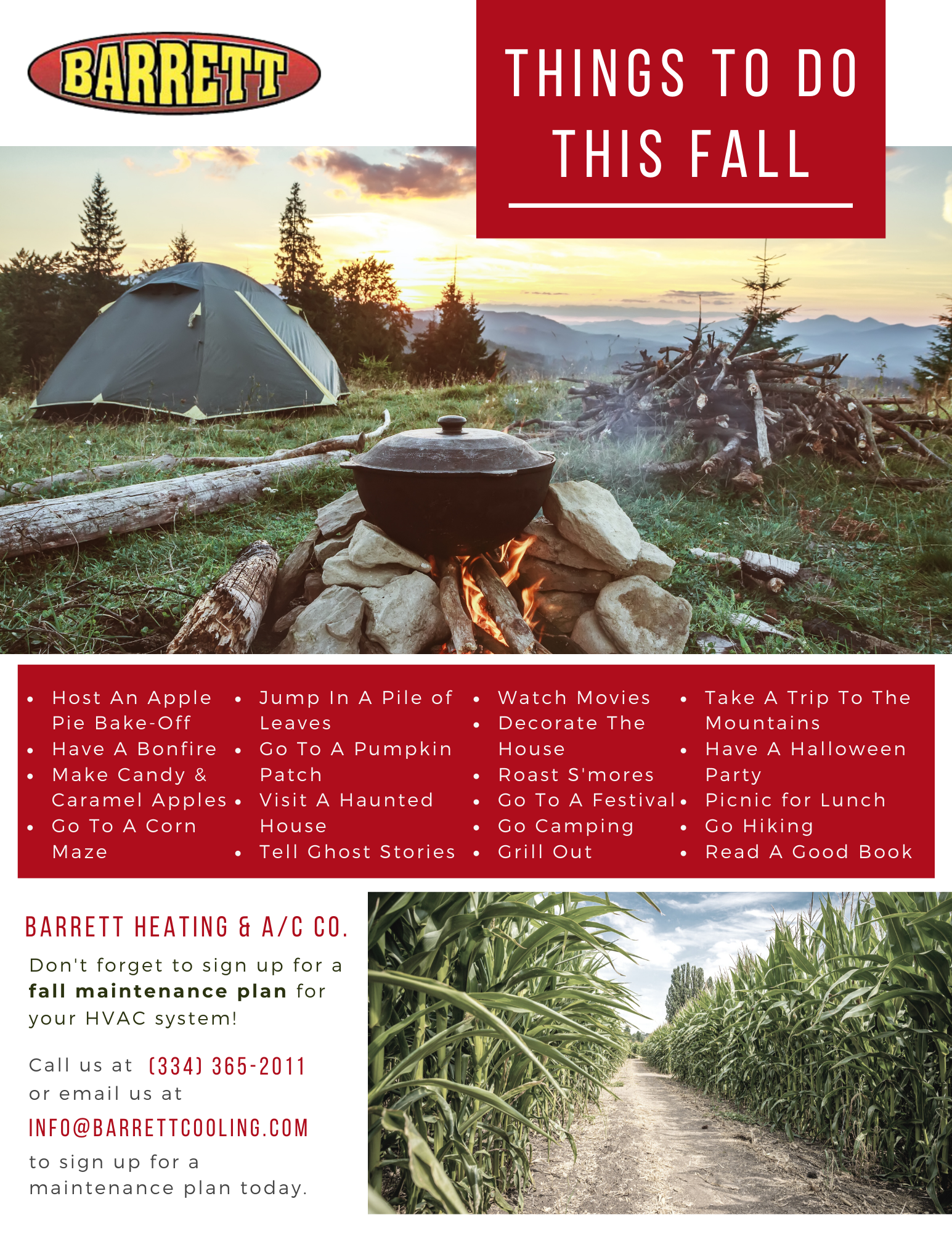 Among all the fun fall festivities, don't forget to have your heating system tuned up before winter arrives. You don't want to be watching scary movies or playing board games in the freezing cold! Check out what our maintenance plans offer below.
Home Maintenance
Among all the fun fall brings, it's important to also do some things around the house to prepare your home for Winter. One thing we highly recommend is having preventative maintenance performed on your HVAC system. Preventative maintenance prolongs the life of your system, helps prevent costly repairs, and ensures your system is running efficiently all year round. On top of these benefits, you'll also reduce excessive costs on your monthly utility bills, saving you money in the short run and the long run.
What Barrett Cooling Offers
As a member of our maintenance program, you'll receive two check-ups a year where we will:
Inspect filter

Inspect inside coil (clean at a discounted rate if necessary)

Inspect primary & secondary drains

Inspect blower components-clean and/ or adjust as necessary

Lubricate all moving parts (where applicable)

Inspect and tighten all loose electrical connections

Monitor air conditioner operating pressures for proper refrigerant charge

Monitor voltage and average draw on all motors and heaters

Monitor air conditioning and heating cycles

Inspect heat exchanger and burners-vacuum and/ or adjust as necessary

Adjust gas pressure as necessary

Inspect pilot operation and adjust as necessary

Monitor flue draft for safe operation

Inspect and test safety operation

Adjust air flow for proper temperature rise and fall

Inspect thermostat operations
With our maintenance plan you're also guaranteed:
Professionally trained technicians that repair it right the first time
Our factory trained, certified technicians have extensive experience in the HVAC business. We examine your entire system to properly diagnose any problem. We are dedicated to making sure your whole system is working correctly to reduce future breakdowns and repairs.
Up front, no hassle price guarantee
We offer straightforward, up-front guaranteed pricing on all installations, services, and repairs even if the job requires extra hours to complete. Special financing is available with approved credit on all new systems.
Quick response and repairs with no repeat trips
You don't have to wait until next week. We can promptly repair and service any make and model of equipment or install a new system with same day service in most cases.
Reliable, quality equipment
We proudly offer American Standard Comfort systems, which feature O-zone friendly refrigerants, and have a proven track record of outstanding performance and reliability.
Our Pricing
Ultimate

: $239.40 Annually or $19.95/ Month

FREE Tune-up on system spring and fall

Discount on all service calls

15% off all parts

15% off all accessories

No overtime charges

Top priority scheduling

Extended equipment life

Minimize energy costs

Supreme

: $140 Annually or $11.66/ Month

FREE Tune-up on system Spring and Fall

Discount on all service calls

No overtime charges

Priority scheduling

Extended equipment life

Minimizes Energy Costs
Learn More
Barrett Heating & Air Conditioning Co. is a trusted American Standard Heating & Air Conditioning Customer Care Dealer in Prattville, AL. Our professional staff can answer any questions you might have, and make recommendations as to which system will work best for your individual situation.
You may also call us at (334) 365-2011 or email us at info@barrettcooling.com. Be sure to find us on Facebook and Instagram.